The Woolworth building, known as the 'Cathedral of Commerce', was the tallest tower in the world when built in 1913.
Frank Winfield Woolworth, the owner of the '5 and dime' Woolworth retail chain admired the gothic buildings in Europe, in particular the
Houses of Parliament
in
London
.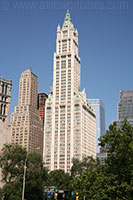 When he needed a new office building for the headquarters of his company, he asked Cass Gilbert to build a gothic tower with plenty of windows. Gilbert, who had studied in Europe, designed a U-shaped skyscraper with a steel frame and gothic ornamentation.
Constructed in 1913, the tower reaches a height of 241,2m (793.5ft). Until the completion of the
Bank of Manhattan
tower and
Chrysler building
in 1930, the Woolworth building was the tallest building in the world. The tower has a 3 story stone base, 52 stories clad in terra-cotta and a 3 story roof topped with the crowning pinnacle. An observation deck at the 58th story attracted about 100,000 visitors each year, but it was closed in 1945.
The building became an instant landmark, due both to the then very impressive height, and because of its gothic ornamentation. This gave it the nickname 'Cathedral of Commerce'.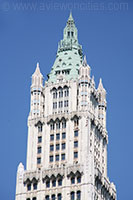 The height caused several challenges at the time: it was the first building to have its own steam turbines and it had the fastest elevators (30 in total). The tower was built to withstand a wind pressure of 200 mph (322 km/h). Special kinds of scaffolding were used to minimize the danger for the construction workers.
The Woolworth building is best known for its neo-gothic style and decorations: The main entrance at Broadway resembles European Cathedral entrances. It is decorated with many symbols, like salamanders (symbol for the transmutation of iron and clay into steel and terra-cotta) and owls (symbol for wisdom). Two empty niches flank the entrance: one was supposed to hold a statue of F.W. Woolworth, but it was never realized.
The interior of the building is one of the most sumptuous in New York. Woolworth's private office was modeled and furnished after Napoleon's Palace in Compiègne.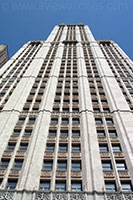 The lobby is covered with marble and features a stained glass ceiling.
Inside the lobby are carved caricatures of men involved in the construction of the building. One of them is a sculpture of Cass Gilbert, holding a model of the Woolworth Building, and another one features Frank Woolworth paying for his building in coins. This refers to the way F.W. Woolworth actually payed for the building: instead of taking a mortgage, he preferred paying the $13,5 million in cash. The building was sold in 1998 for $126,5 million.
The Woolworth Building Today
Both for its exterior and interior, the Woolworth building is even today one of the most remarkable buildings in New York City. Many buildings have surpassed it in height, but not in splendor.