The General Grant National Memorial, better known as Grant's Tomb, overlooks the beautiful Hudson River from the Morningside Heights district of Manhattan. For lovers of both architecture and Civil War history, it's a must-see while in New York City.
An old joke asks "Who is buried in Grant's Tomb?" Technically speaking, the answer is "no one". That is, no one is "buried" here but Ulysses S. Grant and his wife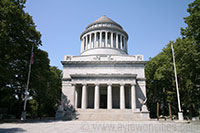 are indeed entombed in this grand mausoleum.
The couple are ensconced in red porphyry sarcophagi inside this Pantheon-style building that was once one of the most popular tourist attractions in Manhattan. The National Park Service, however, notes that the monument is no longer terribly popular with visitors though Grant is historically considered a war hero and was chiefly responsible for the defeat of the Confederacy in the American Civil War.