One of New York's most stunning Art Deco buildings, the Chanin Building uses a number of different materials in many inventive ways.
Centrally located on East 42nd Street near the Grand Central Terminal, the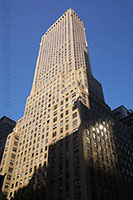 Chanin Building
Chanin Building was constructed between 1927 and 1929 for noted developer Irwin Chanin by Sloan and Robertson architectural firm. One of the tallest buildings of its time, it contains 56 floors and stretches to a towering 680 feet.
Irwin S. Chanin
The Chanin Building was seen by some as an example of the American Dream. A mere 20 years before the completion of this massive skyscraper, the developer, Irwin S. Chanin, an engineer who had worked on the construction of New York's subway, decided to get into the construction business. With only 200$ and some additional funding he started building small houses in Brooklyn. Soon he would expand into the construction of hotels, theaters and apartment buildings, amassing a fortune in the process.
Irwin Chanin himself saw the Chanin building as an 'architectural beauty wedded to business efficiency' and advertised the skyscraper in brochures as an icon of progress.