With more than two million works of art spanning thousands of years, the Metropolitan Museum of Art is one of the most expansive and prolific art museums in the world and it should be on everyone's New York to-do list.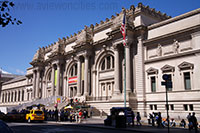 Metropolitan Museum of Art
The Metropolitan Museum of Art was founded in 1870 by a group of New York citizens including not only wealthy businessmen but also artists and philosophers who wanted to share their love of art with the masses. A collection owned by railroad tycoon John Taylor Johnston seeded the museum, which quickly outgrew its original location on
Fifth Avenue
.
Just a year after it opened, the museum found it necessary to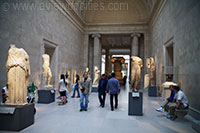 move to the Douglas Mansion on 14th Street but also outgrew that location within just a short period of time. Those responsible for the museum soon acquired a plot of land on the east side of
Central Park
, where the museum still stands today.
The original building at the
Central Park
location, which remains part of the complex, was designed by Calvert Vaux and Jacob Wrey Mould in the Gothic Revival Style. Vaux had designed
Central Park
along with his partner Frederick Law Olmsted. Many additions have been made since that time, including the most notable – the Beaux-Arts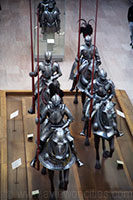 façade which has made the museum recognizable the world over. The façade was designed by Richard Morris Hunt and added in 1926. Hunt also designed the museum's grand entrance hall.
Today, the Met, as it is often called, measures about a quarter-mile long and occupies approximately two million square feet (almost 200,000 sq m). That means it has grown about 20-fold since it first opened.
Currently, the two million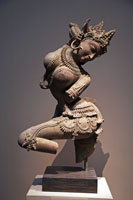 works of art at the Metropolitan Museum of Art are divided into 22 curatorial departments spread out over about 250 rooms. They include American decorative arts; American painting and sculpture; Ancient Near Eastern art; arms and armor; arts of Africa, Oceania, and the Americas; Asian art; the Costume Institute; drawings and prints; Egyptian art; European paintings; European sculpture and decorative arts; Greek and Roman art; medieval art; modern art, musical instruments; and photographs.
There's also a rooftop sculpture garden and the amazing Robert Lehman Collection, often described as one of the most extensive and impressive private art collections in the world.