New York City is indeed a melting pot of many cultures. You'll find neighborhoods filled with people of various ethnic backgrounds. One of the most popular areas with visitors is Little Italy, where you can experience the sights and smells of The Old Country.
The neighborhood known as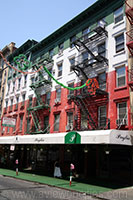 Little Italy is located in Lower Manhattan, between Canal and Houston Streets and Lafayette and the Bowery, bordering 
Chinatown
. The area has long been home to New York's Italian population, including those who came through 
Ellis Island
 in search of a better life in America.
At the end of the 19th century Little Italy was populated with more than 40,000 Italians who housed in cramped tenement houses. Today the number of Italians still living here is only a small percentage of this figure and much of Little Italy has been devoured by the ever-growing Chinatown.