Affectionately known as MoMA, the Museum of Modern Art in New York City is often considered the most important museum of its kind in the world.
New York's famous Rockefeller family was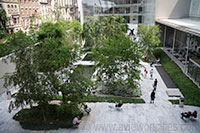 largely responsible for the creation of the Museum of Modern Art. The idea for the museum was proposed by Abby Aldrich Rockeller, wife of John D. Jr. She enlisted the help of two dear friends, Lillie Bliss and Mary Quinn Sullivan, and together the ladies succeeded in opening the first modern art museum just a few days after the stock market crash of 1929.
A few months later, thanks to the influence of Abby Rockefeller, the tiny museum was already achieving notoriety, garnering a loan of some very notable contemporary works, including paintings by van Gogh, Gauguin, Cezanne, and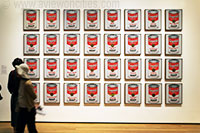 Campbell's Soup, Andy Warhol
Seurat. But because John D. Rockefeller loathed modern art, he refused to help fund the museum, so the location changed several times over the first ten years according to who was donating the funding.
However, by 1939, John D. came on board and donated permanent land for the museum, which still stands at the same site on 53rd Street between Fifth and Sixth Avenues. MoMA continued to gain international attention and in the early years was host to many notable exhibits,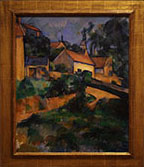 Turning Road,
Paul Cézanne
including those by van Gogh and Picasso in the late 30s.
Under the leadership of Abby's sons, Nelson and David Rockeller, throughout the 40s and 50s the museum's collection grew in leaps and bounds. Today, according to the museum's records, it houses 150,000 pieces including works of architecture and design, drawings, paintings, sculpture, photographs, prints, illustrated books, film, and electronic media. The library and archives holds another 300,000 items.
Some of the museum's top works of art include Monet's Water Lilies, van Gogh's Starry Night, Dali's Persistence of Time, Andy Warhol's Gold Marilyn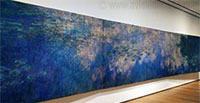 Monroe and Wyeth's Christina's World. Other notable artists whose works are included in the collection are Rousseau, Matisse, Cezanne, Picasso, Pollock, Kahlo, Mondriaan, Léger, and Lichtenstein.
Opened to the public in May 1939, the building that houses MoMA was built in the so-called International Style that was popular during that era. This style generally refers to buildings constructed in the formative decades of Modernism,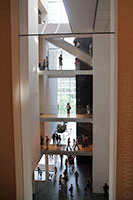 usually before World War II.
The modernist architects chosen for the project were Philip Goodwin and Edward Durell Stone. Stone also designed Radio City Music Hall, Washington D.C.'s Kennedy Center for the Performing Arts, and a number of other notable buildings. President Roosevelt delivered an opening address via the radio on the day the museum was inaugurated.
The museum was expanded in 2004, making it twice as large as before. The renovated glass-facaded building now has 6 floors with exhibitions. The ground floor gives access to the sculpture garden, a peaceful enclosed garden surrounded by Midtown's highrises.