Truly one of New York City's most revered addresses, The Dakota apartment building has long been a place where New York's well-to-do live.
While it's an architectural gem in its own right, the apartment building is best known as the place where former Beatle John Lennon was gunned down in December 1980. Lennon fans still visit the site regularly and place objects there in homage to the singer/songwriter.
The Dakota was built between the years 1880 and 1884. Situated at 72nd Street and Central Park West, the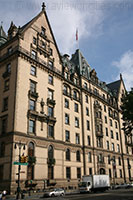 apartment complex is believed to have been given its name because the upper west side of Manhattan seemed, at that time, as remote as the Dakota Territory.
Edward Clarke, developer of the Dakota building, was one of the first to introduce a new concept of living for the rich in New York City: instead of living in a home with servants, the potential tenants would share the building and rent full-serviced flats instead.
Even though New York's high society was sceptical at first towards the new concept of living and the remote location, the Dakota soon started attracting tenants. Only twenty years later the Upper West Side had become a fashionable area with the Dakota building as one of its most prominent addresses.