Granted official New York City Landmark status in 1993, the magnificent Waldorf-Astoria Hotel has been beckoning guests to come and enjoy the opulence of the Big Apple since 1931.
The Hotel and its History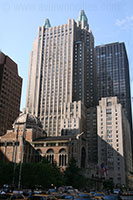 The current Waldorf-Astoria, which sits on posh Park Avenue between East 49th and 50th Streets, wasn't the first hotel to bear that name. The original hotel (at Fifth Avenue and 33rd) was actually created by a merger of two separate hotels, built by cousins William Waldorf Astor and John Jacob Astor IV. Each had erected their own luxury hotel in the early 1890s, adjacent to one another. In 1897, the two buildings were joined by a corridor, thus the "=" symbol in the new official name of the hotel - The Waldorf=Astoria.