The World Trade Center was originally a complex of seven buildings in Lower Manhattan. They were destroyed by terrorist attacks on September 11, 2001. A new complex is currently under construction.
Today a new complex is rising at the site, known as the 'new WTC'. A memorial to the victims of the attacks now occupies the location of the former Twin Towers.
The Twin Towers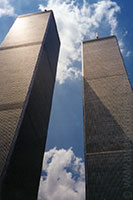 World Trade Center
The two towers were different in height: the first one, built in 1972, reached a height of 417 meters and the second one, finished one year later measured 415 meters. The One World Trade Center was the tallest building in the world until 1974, when the Sears Tower was built in Chicago. At the time of their destruction, the Twin Towers still ranked in the top 10 of the highest buildings in the world and dominated the skyline of lower Manhattan.

The World Trade Center was a project started up in 1960 by David Rockefeller. The towers were sometimes nicknamed David and Nelson, the Rockefeller brothers. The design came from Minoru Yamasaki and Emery Roth & Sons. The monolithic Twin Towers were never seen as great architecture, but it certainly was a great engineering feat.