Situated on Lower Manhattan's waterfront with a breathtaking view, South Street Seaport is a must-see for anyone visiting New York City. It's a combination maritime museum and mall, offering insight into New York's rich maritime history and providing a great place for shopping and dining.
South Street Seaport is located on the site of what was once the busiest port in America. Fulton Street, at the neighborhood's center, was one of the most crowded streets in the city,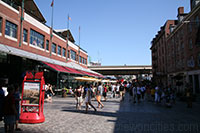 especially after a fish market opened here in 1821. A popular ferry service to Brooklyn also departed here.