The Museum of the City of New York is dedicated to the development of New York and covers its past as well as the present and future of this fascinating metropolis. The museum is housed in a beautiful mansion at New York's Museum Mile on Fifth Avenue.
The Mansion
The Museum of the City of New York, established in 1923, was first located in Gracie Mansion, now part of Carl Schurz Park. In 1932 the museum moved to its current home at Fifth Avenue between 102nd and 103rd Streets.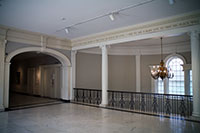 The stately building, designed by Joseph H. Freedlander in a Georgian Revival style, nicely complements the many grand mansions that were built along upper Fifth Avenue by industrial magnates during the 19th and early 20th century.