The National September 11 Memorial commemorates the victims of the terrorist attacks on the World Trade Center. The memorial opened on the 10th anniversary of the attacks at the site of the former twin towers of the WTC.
Design Competition
Soon after the attacks on the World Trade Center plans were made to create a memorial to commemorate the victims of the tragedy. As early as in April 2003, a competition was launched by the Lower Manhattan Development Corporation for the design of a World Trade Center memorial. In total 5,201 submissions were made from 63 different countries.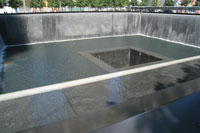 Reflecting Pool

On January 6, 2004, a 13 member jury selected a design by architect Michael Arad and Peter Walker. The jury lauded the openness of the design, which was dubbed 'Reflecting Absence'.
Reflecting Absence
The winning design was unveiled to the public on January 14, 2004. It consists of a 6 acre (2,5 ha) memorial plaza with a grove of 124 white oaks and two large illuminated reflecting pools. The pools, which mark the exact site of the former twin towers, are recessed and its walls form a series of cascading waterfalls. The names of the 2977 people who died on September 11 (including those who died in Pennsylvania and Washington, DC) as well as the victims of the 1993 bombing are inscribed around the edge of the waterfalls.
The memorial was inaugurated on September 11, 2011, exactly 10 years after the terrorist attack, and opened to the public the following day.
The memorial plaza is built on top of a large transit hub to be completed in 2013. The hub is marked by a spectacular PATH entrance station created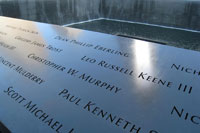 by the celebrated Spanish architect Santiago Calatrava. There's also an underground museum planned, which will show among others some artifacts from the Twin Towers.
The memorial is now officially known as the 9/11 memorial, referring to the date of the terrorist attacks, which occurred on the 11th of September, 2001 (The American date format shows the month first, followed by the day).
Survival Tree
One of the many trees planted at the memorial site is known as the 'Survival Tree'. The tree, a Callery pear, was recovered from the rubble of the WTC in October 2001. Originally planted in the 1970s, the tree was badly damaged and burned but still had a living branch. It was nursed by the N.Y.C. Parks Department and recovered. In December 2010 the tree was replanted at the memorial plaza.
Visiting the Memorial
Despite initial claims that the memorial grounds would not be isolated and would be integrated into the fabric of Manhattan, the site is now cordoned off and you need a pass to access the site. Passes can be purchased at the official site of the 9/11 Memorial.