It's certainly fitting that one of the grandest cities in the world would boast one of the grandest libraries in the world! The New York Public Library has long been a magnificent educational and architectural landmark in Manhattan, a city known for doing everything on a large scale.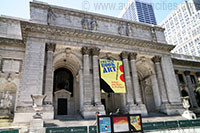 Public Library
This beautiful library is situated in Manhattan's midtown section, on ritzy Fifth Avenue between 40th and 42nd Street. Several million people travel through the doors of the New York Public Library each year and an amazing 1.8 million individuals are NY library card holders.
History of the Library
When New York City decided it needed a library, officials didn't spare any expense or imagination. The first appointed director of the library, Dr. John Shaw Billings,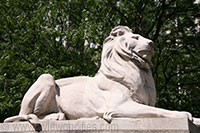 Lion Statue

proposed an expansive building with seven stories of stacks and a huge reading room on the top floor.
Architects Carrère and Hastings came up with plans for an ornate marble Beaux Arts structure, the largest of its kind ever attempted in the U.S. at that time. It took 500 workers 2 years to dismantle the reservoir that was situated at the site where the library was to be built. The cornerstone was laid in 1902.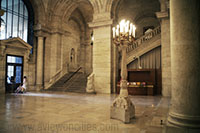 Astor Hall
It took years to build this amazing structure, with the library finally opening in 1911. The entire project cost $9 million, an astounding amount in the early days of the 20th century. The library's famous lion statues that sit outside the main entrance - fashioned from pink Tennessee marble - welcomed nearly 50,000 visitors on the library's first official day of business.
The Building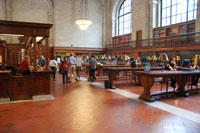 Interior
The magnificent building is considered one of the best examples of Beaux-Arts architecture in the country. Especially the vaulted marble Astor Hall and the main reading room are impressive. The latter has a beautiful paneled ceiling with a series of chandeliers. Natural light enters through large arched windows.
The Collection
The library was founded in 1895 when the private collections of John Jacob Astor and James Lenox were combined. Today the library's collection number in the tens of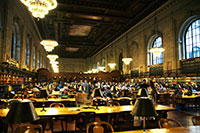 Main Reading Room
millions, all put on 75 miles of bookshelves. Thanks to an automated system any book requested can be obtained in less than 10 minutes.
Besides books the library also has a collection of millions of magazines, sound-recordings, historic maps and photos. Some of the holdings are simply magnificent - such as the Gutenberg Bible and the manuscript copy of Jefferson's document which would become known as The Declaration of Independence.