The General Grant National Memorial, better known as Grant's Tomb, overlooks the beautiful Hudson River from the Morningside Heights district of Manhattan. For lovers of both architecture and Civil War history, it's a must-see while in New York City.
An old joke asks "Who is buried in Grant's Tomb?" Technically speaking, the answer is "no one". That is, no one is "buried" here but Ulysses S. Grant and his wife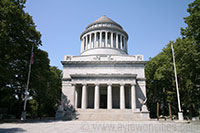 are indeed entombed in this grand mausoleum.
The couple are ensconced in red porphyry sarcophagi inside this Pantheon-style building that was once one of the most popular tourist attractions in Manhattan. The National Park Service, however, notes that the monument is no longer terribly popular with visitors though Grant is historically considered a war hero and was chiefly responsible for the defeat of the Confederacy in the American Civil War.
A monument to President Grant was being planned even before the popular president died. At the time, the largest amount of money ever collected for a public monument was amassed to insure the building of this tomb. More than 90,000 people donated $600,000 for the project and the then-governor of New York,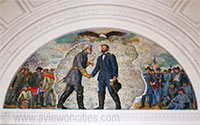 William Grace, was instrumental in securing such a prominent site for its location.
John Duncan was the chosen architect for the building, though his original plans were much too grand for the amount of money allotted for the project. They were scaled down significantly and work then proceeded on Grant's Tomb.
The building opened in 1897 and remains the largest tomb in America. It is constructed from 8,000 tons of granite, with Massachusetts marble for the floors and fine Italian marble for the railings and trimmings.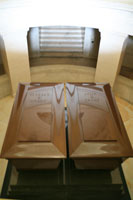 Architectural experts have described it as being built in an "eclectic classical style reminiscent of the
Pantheon
".
The tombs of Ulysses and Julia Grant can be viewed by looking down over the circular railings that you'll find in the center of the main room or you can go downstairs for a closer look. In the main room, you'll also view statues that depict Grant's life and can then proceed to visit two smaller rooms that provide information about his career, famous battles of the Civil War, and about the monument itself.
Currently, the Grant National Memorial is one of six NYC sites overseen by the National Park Service. Located at 122nd Street in Riverside Park, it is open seven days a week and because of its size, it's rarely crowded. Admission is free.