Washington Square Park, located in the heart of Greenwich Village, is a very popular and crowded square. It is best known for its bohemian and rebellious character.
People from all backgrounds flock to this large square dotted with trees. At the center of the square are its two main attractions: a large fountain and the Washington arch.
Before the Washington square was built in 1826, the area was used as a burial ground.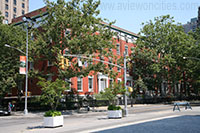 The north side was a German cemetery, while the south side was a potter's field (a nameless burial ground). The area was later used as a public gallows and execution ground.

Between 1829 and 1833, a row of houses were built at the North side of the square. The prestigious houses, built of red Brick in Flemish bond in Greek revival style, became known as '
The Row
'. The entrances are flanked by Ionic and Doric columns and have marble balustrades. By the end of the 19th century, the north side continued to attract rich and leading citizens,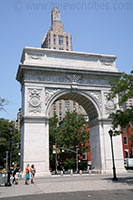 Washington
Square Arch
while the south side was populated with immigrants living in tenement houses.
For the Centennial of Washington's inauguration as President of the United States a wooden Memorial Arch was constructed on the Washington Square. The arch, designed by Stanford White was so successful at the celebrations, that a marble version was commissioned. In may 1895 the final version of the 77 ft (23,4m) Washington Arch was inaugurated. The pier sculptures of Washington as general and president were added in 1916 and 1918 respectively.
Cars were allowed to drive through the arch until 1971, when the Washington square was redesigned by Robert Nichols.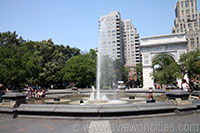 Washington Square Fountain
The square has had its ups and downs since.
Especially in the 80's, when it had become a drug dealing center, the square was particularly dangerous, but it has improved since the 90's and is now a relatively safe area.
In 2007 the New York City department of Parks started with the renovation of Washington Square Park, the rectangular park that occupies most of the square. The first phase of the extensive renovation, completed in May 2009, resulted in repaved paths, new benches and lighting as well as the relocation of the fountain to the center of the square. This move enabled the creation of more green space. In the process, the fountain was completely rebuilt.
Washington Square park is bounded by Waverly Place, 4th street, University Place and MacDougal Street. The Washington Arch is located at 5th Avenue and Waverly place.