The neo-gothic Cathedral of St. Patrick is the largest catholic church in the United States. Despite its 330ft (100m) tall spires it is dwarfed by the many neighboring midtown skyscrapers.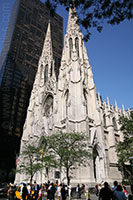 St. Patrick's Cathedral, situated on posh
Fifth Avenue
near
Rockefeller Center
, is actually the "new" St. Patrick's. The original church opened in 1815 on Mulberry Street in lower Manhattan. During the next several decades, the Catholic population of New York City continued to rise, and in 1853, Archbishop John Hughes declared that the city's faithful should have a new place to worship.
Hughes' plans were so grandiose that most people took to calling the project "Hughes' Folly". James Renwick's Gothic revival design was based on the
cathedral in Cologne, Germany
. The cornerstone was laid in 1858 and the doors of the cathedral finally opened in 1879, fifteen years after Hughes' death.
The ornate Lady Chapel was constructed in 1900, complete with magnificent stained glass windows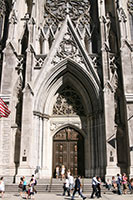 crafted in England and added gradually over the next 25 years. Near the chapel is a pietà created in 1906 by American sculptor William O. Partridge. It is three times as large as Michelangelo's pietà in the
St. Peter's Basilica in Rome
. The church also features a tomb for the country's first saint: St. Elisabeth Ann Seton.

An enormous bronze door, weighing nine tonnes, is decorated with sculptures depicting some of New York's most important religious figures. Also of note is the cathedral's large rose window. Below the rose window is the church's main organ, added in 1930 as a replacement for one of the original organs.
Miraculously, St. Patrick's Cathedral was debt free by 1911. By this time, more and more features had been added and $4 million total had been spent on the structure.
Throughout the last several decades, the cathedral has undergone several renovation projects, both inside and out, including projects to restore the cathedral's organs and bells. A recent chapel was added in homage to the Polish saint,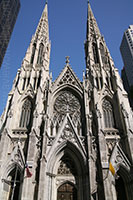 Our Lady of Czestochowa.
Visitors are welcome to attend one of several daily masses at St. Patrick's or to just pop in and enjoy a self guided tour of the massive white-marble-and-stone structure.
Pamphlets are available at the rear of the church, which can serve as a guide for visitors. There's also a gift shop where guests can purchase books about the cathedral as well as religious items.
Concerts on the cathedral's organ are held often, so be sure to check the events schedule if you're interested in hearing this fabulous instrument.