Just a traffic circle to some, Columbus Circle is truly a New York landmark and was an early innovation for traffic control and safety.

Located at the intersection of Broadway, Central Park West, Central Park South (59th Street), and Eighth Avenue, situated at the southwest corner of Central Park, the Columbus Circle was completed in 1905. The designer of Central Park, Frederick Law Olmsted, had planned this circle for the entrance to this vast park, hoping to create a grand entryway for what was to be one of the largest city parks in the world.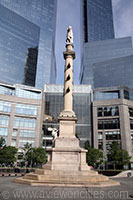 The circle itself was designed by William Eno, who was known for devising ways to make travel safer, even in the days when cars were few in New York City.
Christopher Columbus Monument
The monument of Christopher Columbus, which sits in the center of the circle and is often overlooked by busy tourists, was erected in 1892 in celebration of the 400th anniversary of the great explorer's voyage to the Americas. A 70-foot (21 meter) granite column holds a large marble statue of Columbus. The column is decorated with bronze reliefs that depict the explorer's three famous ships: the Nina, Pinta, and Santa Maria. Visitors will also view an angel holding a globe, paying homage to global exploration.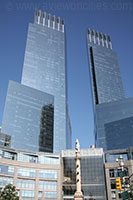 Columbus Circle is dominated by the twin towers of the Time Warner Center. The modern glass skyscraper was constructed between 2000 and 2004 at the site of the former New York Coliseum Convention center. It houses the world headquarters of Time Warner as well as a hotel, luxury apartments and a retail center.
Opposite Time Warner Center, near Merchants' Gate - one of Central Park's main entrances - is the imposing Maine Monument. The monument was built from 1901 to 1913 to commemorate the more than 250 sailors who perished in 1898 when the battleship Maine exploded in the harbor of Havana, Cuba. Media magnate William Randolph Hearst spearheaded a fundraising to create a monument in honor of the sailors.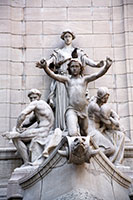 In 1901 a design by sculptor Atillio Piccirilli and architect Harold Van Buren Magonigle was chosen. It called for a large monument consisting of a limestone base in the shape of ship's prow topped by a tall pylon and crowned with a large gilded sculpture.
The base is flanked by statues of allegorical figures representing Justice, Peace, Victory, Courage and Fortitude. The gilded sculpture at the top represents Columbia Triumphant in a seashell chariot pulled by three sea horses.
The circle itself was renovated in 2005 and many amenities were added, such as fountains, a larger grassy area, plantings, and benches; designed not only to make Columbus Circle more attractive but also to offer a respite to weary travelers.
www.aviewoncities.com