The Guggenheim Museum on Fifth Avenue houses an important collection of modern art, but even if you're not into art, the building housing the art is worth a visit on its own. It was the last completed project by Frank Lloyd Wright before he died in 1959.
Some see the museum as one of the less successful architectural realizations of Frank Lloyd Wright. The main criticism was that the shape of the building did not suit its purpose. Due to its organic shape, visitors walk through a part of the museum in an upward spiral,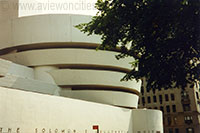 which means the artwork is always viewed from an angle. The walls are also relatively low for a museum, which prevents some paintings from being properly displayed. FLW's own comment on this was that the paintings had to be cut in half (!).
Still, the Guggenheim Museum is an intriguing building with a good balance between aesthetics and practicality. Built as a spiral, in a soft white color, it is even in New York a building that attracts the attention of the passersby.

The building was commissioned by Solomon R. Guggenheim in 1943, but when it opened on October 21, 1959 Frank Lloyd Wright, certainly one of the best American architects ever, had already passed away. In 1992 the museum was renovated by Gwathmey Siegel & Associates architects.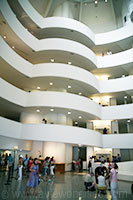 The complex was expanded with a 10 story tower designed after Frank Lloyd Wrigth's original drawings.
The Solomon R. Guggenheim Museum houses some fine collections of world famous painters like Picasso, Chagall, Kandinsky, and many other modern artists. The major part of the collection contains paintings, but sculptures and photos are also on display in the museum.

The collection was started by Solomon R. Guggenheim in the late 1920s. In 1937, he founded the Museum of Nonobjective painting, located on East 54th street. It later moved to its present location near Central Park. The collection was expanded several times. In 1976, an important collection of paintings from Gauguin, Picasso, van Gogh and many others were donated by Justin K. Thannhauser. In 1990, more than 200 works of American Minimalist art were added to the collection.